Tags
Related Posts
Share This
SISTERS IN THE SKY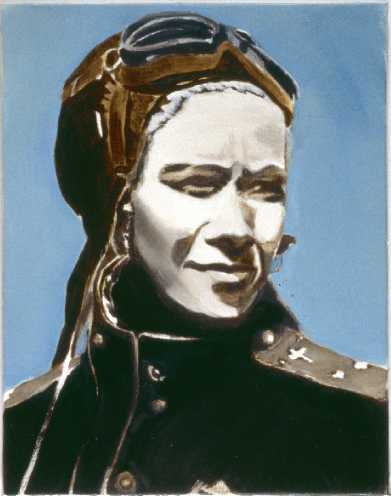 48th international Venice Biennale, dAPERTutto, Venice, Italy  13 June – 7 November 1999
Theme:
dAPERTutto (APERTO over ALL)
Director:
Harald Szeemann
SISTERS IN THE SKY – Women pilots in war duty during WWII – Simone Aaberg Kærn 1997
Installation in 30 meter long curved corridor:
text: historical information on pilots, regiments and aircraft
45 paintings, Oil on Canvas 35x 65 cm with text by Simone Aaberg Kærn
Sound composed from WWII aircraft distributed from 8 speakers (20 min loop)
Sound in corporation with Morten Carlsen and Emmerick Warburg
Architect: Gert Jørgensen
The Louisanna collection.
Sisters in the Sky
Female Pilots on Active Service during World War II. World War II was the first war in which air power played
a decisive role. However, it was not the fi rst time women served as combat pilots. World War I saw the fi rst aerial
combat, and among the pilots there were a few women.
After World War I, it was clear that aviation had developed from a mere sport to a factor of defi nite social importance
both in civilian life and in the armed forces. The new possibilities in aviation seemed unlimited. And in the late 1930s young people all over the world flocked to
the flying schools, where they were trained under programs often subsidized by the government.
This exhibit shows a small selection of the women who flew during World War II.
In Britain the best ATA pilots might fl y any of 117 different types of aircraft, from Tiger Moths to four-engines
Lancasters. Female Russian fi ghter pilots kept the skies free of German bombers; others attacked tanks and supply lines
in low-fl ying bombers. Their mission covered the air space from Stalingrad all the way to Berlin. In the US the girls flew
domestic military missions of every kind.
Whether the pilots were involved in actual combat or carrying out other military tasks, the highest level of technical
skill, commitment and professionalism was required. All programs had pilots who were mothers, too, and the ATA in
Britain had at least one grandmother among its pilots.
1999 Awards:
La Biennale di Venezia International Prize – Golden Lion to Doug Aitken, Cai Guo-Qiang, and Shirin Neshat
Golden Lion for best national participation to Padiglione Italia (Monica Bonvicini, Bruna Esposito, Luisa Lambri, Paola Pivi, and Grazia Toderi)
Honourable Mentions to: Georges Adéagbo, Eija-Liisa Ahtila, Katarzyna Kozyra, and Lee Bul
Golden Lion to two masters of contemporary art to Louise Bourgeois and Bruce Nauman
Artists:
Antoni Abad, Georges Adéagbo, Sergej Bugajew Afrika, Eija-Liisa Ahtila, Ai Weiwei, Doug Aitken, Ana Laura Alaez, Giorgio Alexi-Meskhishvili, Maria De Alvear, Ghada Amer, Brook Andrew, Alexandru Antik, Dieter Appelt, Rossana Archibugi, Cecilia Argüello, Fernando Arias, Howard Arkley, Anna Artaker, Santos Arzu Quioto, Miriam Ascari, Knut Asdam, Kutlug Ataman, Norbert Francis Attard, Narek Avetissian, Miriam Backstrom, Gilles Barbier, Massimo Bartolini, Jean-Michel Basquiat, Gustavo Beckelmann, Jacques Bedel, Emese Benczur, Luis Fernando Benedit, Jean-Pierre Bertrand, John Bock, Peter Bonde, Andres Bonifasi, Ecke Bonk, Monica Bonvicini, Oscar Bony, Louise Bourgeois, David Bowes, Ricardo Brey, Vince Briffa, Veronika Bromova, Dino Bruzzone, Roderick Buchanan, Imre Bukta, Chris Burden, Balthasar Burkhard, James Lee Byars, Cai Guo-Qiang, Anthony Caro, Maurizio Cattelan, Chen Chieh-jen, Chen Zhen, Renee Cox, Brenda L. Croft, Attila Csörgo, Milorad Damnjanovic, Franky DC, Destiny Deacon, Max Dean, Tom Dean, Simone Decker, Wim Delvoye, Dias & Riedweg, Philippe Dodard, Gino de Dominicis, Jimmie Durham, Olafur Eliasson, Gabor Erdelyi, Iran do Espirito Santo, Bruna Esposito, Fang Lijun, Mariana Fernandez De Cordoba, Esther Ferrer, Fischli / Weiss, Mircea Florian, Harry Fonseca, Bill Fontana, Rene Francisco, Michel François, Peter Friedl, Pia Fries, Katharina Fritsch, Rainer Ganahl, Franz Gertsch, Richard Glazer-Danay, Daan van Golden, Dominique Gonzales-Foerster, Douglas Gordon, Marijana Gvozdenovic, Alban Hajdinaj, Ann Hamilton, Bob Haozous, Tim Hawkinson, Besnik Haxhillaris, Lori Hersberger, Edi Hila, Thomas Hirschhorn, Christine und Irene Hohenbüchler, Jenny Holzer, Huang Yong Ping, Teresa Hubbard & Alexander Birchler, Stephan Huber, Gary Hume, Tung-Lu Hung, Pierre Huyghe, Buh-Ching Hwang, Mariann Imre, Richard Jackson, Christian Jankowski, Ann Veronica Janssens, Mamuka Japaridze, Pascale Jeannee, Anna Jermolaewa, Jimenez Deredia, Sven´t Jolle, Kcho , William Kentridge, Anne-Mie van Kerckhoven, Ando Keskküla, Leah King-Smith, Martin Kippenberger, Knowbotic Research, Job Koelewijn, Slobodan Kojic, Komar & Melamid, Glavkos Koumides, Katarzyna Kozyra, Simone Aaberg Kaern, Frank La Pena, Wolfgang Laib, Luisa Lambri, Albertina Lanza, Lee Bul, Nelson Leirner, Katharina Lenz, Lu Hao, Saverio Lucariello, Victor Lucena, Tuukka Luukas, Ma Liuming, Michel Majerus, Christian Marclay, Mladen Marinkov, Victor Matthews, Paul McCarthy, Lala Meredith Vula, Dan Mihaltianu, Tatsuo Miyajima, Jorge Molder, Fernando Montes, Gazmend Muka, Bruce Nauman, Mindaugas Navakas, Borislava Nedeljkovic Prodanovic, David Neel, Shirin Neshat, Max Neuhaus, Shady El Noshokaty, Elsa Nunez, Jüri Ojaver, Yoko Ono, Nicolae Onucsan, Simon Ortiz, Adrian Paci, Christos Papoulias, Philippe Parreno, Ricardo Pascale, Alexandru Patatics, Zhang Peili, Peeter Pere, Perino e Vele, Dan Perjovschi, Raymond Pitre, Stefania Pitscheider, Paola Pivi, Sigmar Polke, Flutura Preka, Natasa Prosenc, Qui Shi-Hua, Jaune Quick-To-See Smith, Egle Rakauskaite, Edi Rama, Philip Rantzer, Richard Ray Whitman, Jason Rhoades, Michael Riley, Pipilotti Rist, Tanja Ristovski, Giovanni Rizzoli, Liisa Roberts, Ulf Rollof, Benito Rosas, Rebecca Ross, Dieter Roth, Inta Ruka, Torbjørn Rødland, Buffy Sainte-Marie, Anri Sala, Sang-Kyoon Noh, Paula Santiago, Mario Schifano, Liang Shaoji, Qiu Shihua , Shozo Shimamoto, Simcha Shirman, Ann Sofi Sidén, Katharina Sieverding, Roman Signer, Sigurdur Arni Sigurdsson, Kim Sooja, Serge Spitzer, Todor Stevanovic, Danae Stratou, Sarah Sze, Anne Tallentire, Frank Thiel, Rirkrit Tiravanija, Grazia Toderi, Rosemarie Trockel, Evanthia Tsantila, Marianna Uutinen, Manolo Valdes, Philippe Van Snick, Costas Varotsos, Astrit Vatnikaj, Costa Vece, David Vega, Vesna Vesic, Zlatan Vrkljan, Kay WalkingStick, Wang Du, Wang Jin, Wang Xingwei, Winter / Hoerbelt, Sislej Xhafa, Xie Nanxing, Yang Shaobin, Ying-Bo, Yue Minjun, Anita Zabilevska, Lesja Zajac, Andrej Zdravic, Zhang Huan, Zhao Bandi, Zhou Tiehai, Zhuang Hui, Wolfgang Zinggl, Otto Zitko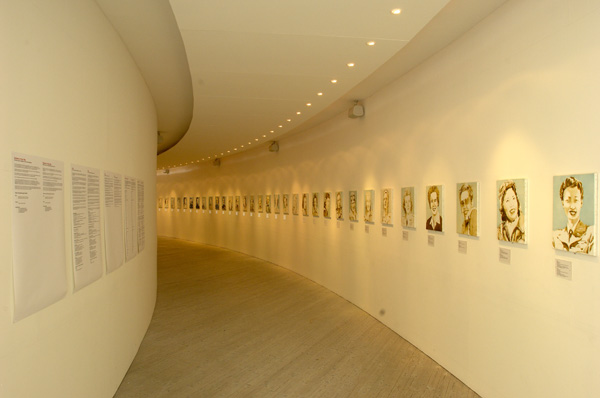 The Yin-Yang Biennale
by Lisa Liebmann
http://www.artnet.com/magazine_pre2000/features/liebmann/liebmann8-6-99.asp
Women in "dAPERTutto"
A seemingly disproportionate number of the women in "dAPERTutto" come from Scandinavia, with Northern Europe in general running a close second. I especially liked work by three artists. The Swedish photographer Miriam Backstrom (b. 1967; lives in Stockholm) presents a large group of admirably small, compositionally tight, subtly detailed pictures of the apartments of recently deceased people that suggest an almost excruciatingly keen (but not mean) sensibility.
Annika von Hausswolff (also Swedish; shown in the Nordic Countries Pavilion) makes large-format, color and black-and-white photographs of ordinary domestic sights — underwear, for instance, floating in a sink — that have an effortlessly twisted, surreal edge. And the Danish painter and installation artist Simone Aaberg Kaern (b.1969) constructed Sisters in the Sky, a cool but earnest echt-Modernist gallery-pantheon — literally a curved, Alvar Aaltoesque white structure set up within the Corderie — filled with the recorded sounds of airplanes, and a seemingly endless lineup of uniformly sized and formatted portraits of World War II female fighter pilots.
Each of these artists can be linked up to what I have now begun to think of as this exhibition's dual themes — a dual zeitgeist, really, since they also reflect the mood and content of work in virtually all mediums seen in countless other internationally oriented exhibitions over the last few years.
by Lisa Liebmann

http://www.frieze.com/issue/article/just_add_water1/:
The Aperto had a pinballish configuration: you could zip round, say, a slew of Wang Jin's extraordinary plastic operatic costumes by sashaying through Doug Aitken's syncopated four room video, or bypass Chris Burden's Meccano bridges by swinging through Simone Aaberg Kaern's almost taxonomic chronicle of WWII aviatrices. A lot of this, of course, may have been predetermined: Christian Jankowski called up some of the Veneto's dodgy cable channel tarot card readers to ask, in dodgy Italian, if his artwork would be a success, and then used their spookily accurate responses as the work. After that you saw things a little differently.
Andrew Gellatly
http://www.decorate.dk/artikler/Boligbog/Kunst/Profiler/Simone-Aaberg-Kaern/e_122_2402.page